Israel has 'proof' Iran behind deadly ship attack off Oman, PM Bennett claims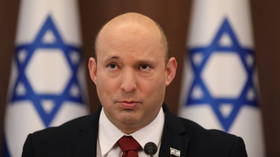 Israel's Prime Minister Naftali Bennett has claimed there is "proof" that Iran is behind the deadly ship attack off the coast of Oman, adding that the incident is a "reminder of Iranian aggression."
The incident on Thursday, which was widely publicized on Friday after two crew members were confirmed dead, has previously been described by officials as a "drone-style attack." It targeted an Israeli-operated merchant vessel in the Arabian Sea.
Bennett claimed in a Sunday press conference that Iranians behind the attack wanted an "Israel target" and had settled on the Mercer Street tanker.
"I determine, with absolute certainty – Iran carried out the attack against the ship," he said. "The intelligence evidence for this exists and we expect the international community will make it clear to the Iranian regime that they have made a serious mistake."
Also on rt.com
Deadly attack on Israeli-operated ship off Oman coast was carried out by drone, US Navy says
Iran has denied responsibility for the attack, something Bennett labeled "cowardly" while promising a swift response from Israel itself.
"The Zionist regime [Israel] has created insecurity terror and violence ... these accusations about Iran's involvement are condemned by Tehran," Iranian Foreign Ministry spokesman Saeed Khatibzadeh said this week.
"In any case, we know how to send a message to Iran in our own way," Bennett promised in response on Sunday.
The attack, the prime minister added, is a threat to "global interests," including "freedom of navigation" and "international trade."
Also on rt.com
Two sailors killed in attack on Israeli-operated ship off coast of Oman
The two people left dead in the attack were the ship's Romanian captain and a British crewmember.
Israel's Ambassador to the United States and the United Nations Gilad Erdan said earlier this week he has spoken to US Secretary of State Antony Blinken and discussed "formulating a real and effective international response."
Attacks on Israel and Iranian-owned vessels have increased in frequency around the Persian Gulf, with ships reporting fires being started, though most of these ships have not sustained significant damage or been forced to cease their operations.
Think your friends would be interested? Share this story!
You can share this story on social media: