Germany will not make Covid jabs mandatory, Merkel confirms, with voluntary vaccination held up as way forward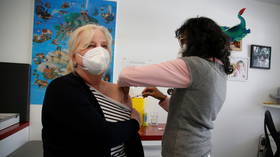 Chancellor Angela Merkel has announced that Covid jabs will not be mandatory in Germany, not even for healthcare workers, saying such a move would break public trust and people must decide for themselves whether to be vaccinated.
Merkel confirmed that her government currently has no intention of implementing mandatory vaccination as a means of combating the pandemic. Speaking at a press conference at the Robert Koch Institute (RKI) on Tuesday, she confirmed that "we do not intend to go down this road."
The chancellor expressed concern that a roll-out of mandatory Covid jabs could break the trust between the government and the people, and stated that efforts to make inoculation more appealing were preferable. Figures from the RKI already show that 80% of Germans are largely in favor of being vaccinated.
Jens Spahn, the minister of health, echoed Merkel's position on resisting introducing a mandatory inoculation scheme, stating that vaccination was a decision to be made by the individual, albeit one that benefited society more broadly.
Also on rt.com
Over 3,800 Germans got sick with Covid-19 following full vaccination, hundreds were hospitalized – health watchdog
On Twitter, the minister praised Germany's vaccination campaign for offering inoculations "no matter" the location. "It is now important to have creative vaccination campaigns on site in order to reach those who are undecided," he added.
Germany has taken a different path on the issue to neighboring France. Macron announced on Monday that all healthcare, nursing home and care-workers there must be vaccinated against coronavirus by September 15. Anyone within that group who does not comply may be fined or sanctioned.
Also on rt.com
Macron delivers bad news to France: Vaccine passports, mandatory shots for health workers, AND unpopular pension reform
Greece similarly decided to make Covid vaccinations mandatory, announcing on July 12 that nursing home staff and healthcare workers must also be vaccinated from the beginning of autumn. The Mediterranean country also introduced new temporary rules under which only people who have been vaccinated or tested negative within the prior three days can access indoor spaces such as restaurants and bars.
Despite a sluggish start to its vaccination campaign due to supply issues and a reluctance to approve Oxford's AstraZeneca over rare blood-clotting side-effects, almost 59% of Germany's population has received one dose of a coronavirus vaccine. Well over a third of the country, 43%, have double-dose protection. However, Germany acknowledges it still has a "long-way to go" to reach an 85-90% fully covered population, as recommended by the RKI.
Like this story? Share it with a friend!
You can share this story on social media: