'Not in a state of emergency': South African defense minister says troops deployed amid widespread rioting following Zuma's arrest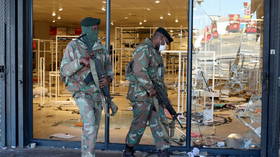 The South African defense minister has said that, while the country may be in a state of panic amid rioting following the sentencing of former president Jacob Zuma, the country is not yet in a state of emergency.
Speaking on Tuesday alongside her ministerial colleagues, Defense Minister Nosiviwe Mapisa-Nqakula said that the government had not expected the scale of looting and rioting that has been taking place since the jailing of the former president.
She said that the military was now being deployed around the country, but particularly in highly impacted areas such as Gauteng, just north of Johannesburg, and at the nation's airports. The minister said the government would continue to assess the number of troops required.
Also on rt.com
South Africa deploys military to two provinces amid looting and violence after ex-president Zuma's jailing
Despite the widespread rioting, she dismissed the idea that the country was in a statement of emergency. "For now, there is no indication that there should be a state of emergency," Mapisa-Nqakula was quoted as saying by local media.
Nearly 800 have been arrested so far, according to Police Minister Bheki Cele, as people take to the streets, engaging in violent activities and looting, in protests triggered by the imprisonment of former president Jacob Zuma.
Twice last week, Zuma's supporters gathered in front of his home to prevent him from being arrested after he was given a 15-month prison sentence for failing to attend a corruption inquiry. The charges concerned allegations that he gave state money away to three Indian brothers named Gupta, and allowed them to have political influence during his nine-year presidency.
If you like this story, share it with a friend!
You can share this story on social media: