France slaps Google with 'biggest fine ever' of €500 million for failing to comply with copyright rules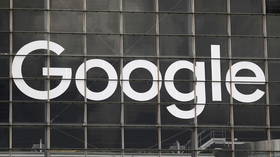 US internet giant Google is facing its largest fine ever, €500 million euros from the French competition authority, which has ruled that the company had not respected the copyright rules surrounding licensing fees.
The country's competition authority hit Google with the half-a-billion-euro fine on Tuesday for its failure to comply "in good faith" with media outlets under a European Union copyright rule granting "neighboring rights." As well as issuing the body's "biggest ever fine" to date, the watchdog has also given Google an ultimatum: either publishers are given "remuneration for the current use of their copyrighted content," or Google must pay up to €900,000 a day.
The EU's "neighboring rights" rule was extended to publishers to ensure that news agencies would be protected by copyright and receive payment for having their articles and photos used by online service providers.
Also on rt.com
Google to pay French media $76mn to end long-running copyright spat, but not everyone is pleased
The US company expressed upset at the French authority's decision in a statement: "We have acted in good faith during the entire negotiation period. This fine does not reflect the efforts put in place, nor the reality of the use of news content on our platform."
The battle between Google and French publishers, including Agence France-Presse, has been going on since early 2020. Despite Google claiming that it has acted appropriately, French publishers insist that the company has used copyrighted articles and images without fairly paying the original authors under the EU "neighboring rights" rule.
In February, Google was forced to pay out $76 million dollars to 121 French news outlets, with $22 million to be paid annually over three years.
Also on rt.com
Google slapped with 220mn-euro fine following French probe into anti-competitive behavior
Just last month Google was fined €220 million for misusing its position as a major search engine to generate more revenue, undermining smaller competitors through its algorithm system.
Only a few other countries in Europe aside from France have rolled out the EU's rule on copyright, with publishers from countries that have implemented the law being able to demand payment for having their content displayed online.
Think your friends would be interested? Share this story!
You can share this story on social media: