Turn down the music & slow your treadmill! Seoul introduces bizarre Covid-19 measures to combat virus surge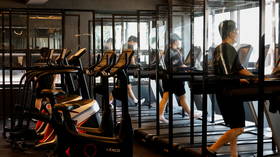 South Koreans living in the Greater Seoul area have been asked to slow their roll – literally. Virus authorities have reportedly ordered people to quit "high-speed running on treadmills and fast dance music for group exercises."
The orders took effect on Monday and are motivated by concern that more intense workouts will exacerbate the spread of Covid-19, which is currently growing at its highest rate in the country thus far.
An even odder rule states that music faster than 120 beats per minute (bpm) must be banned during group exercise classes – again, lest it encourage overly strenuous exercise in the participants – and treadmill users are limited to a maximum speed of 6 kilometers per hour.
Those working out have thrown up their hands in frustration, pointing out that everyone is already forced to wear masks, check their temperatures before entering the facility, provide contact information, and studiously follow a hefty list of other rules – yet "now they want us to stop running and listen to ballads?" a 32-year-old office worker named Jang told the Korean Herald.
Also on rt.com
As South Korea's Covid-19 infections break records, Seoul re-imposes maximum social distancing rules
The new regulations have rubbed many Koreans the wrong way, eliciting complaints that the measures are counterproductive. Given how exercise is supposed to have a prophylactic effect against illness, and with being overweight being one of the chief predictors of coronavirus complications, those laboring under such stringent rules have called out the apparent hypocrisy.
"What do they want from us?" Jang asked the paper on Monday, tearing into the rules that seemed as likely to cause sickness as to prevent it. "Does the government want me to get fat and give up our lifestyle for the sake of these dumb rules?" Many of his friends, he said, also found the rules "illogical and excessive."
South Korea has implemented a four-tier control system in an effort to stem the spread of the virus, and those working out in areas under the strictest tier must "revise their plans or face fines," according to the Herald.
The latest rules also include a ban on private gatherings of three or more people from 6pm to 5am – echoing the much-maligned curfews imposed in other parts of the world, which some have ridiculed as implying that the virus ceases operations at some arbitrary hours imposed by humans.
Similar 'curfew'-style measures were adopted in western Europe and the coastal US late last year – and while some studies have indicated the potential effectiveness of curfews, other experts have questioned their effectiveness as a method of virus control.
In South Korea, the strictest new measures apply to Seoul, Incheon, and Gyeonggi Province, where they will remain in effect for two weeks as matters currently stand.
In what some would see a peak nonsense, Koreans under the strictest level of restrictions are forbidden from even taking a shower at the gym following a sweaty workout. Individuals who fail to adhere to the new rules can be fined up to 100,000 won ($87).
A recent Realmeter survey of 500 people over the age of 18 insisted that almost 72% of residents approve of Seoul going under level four restrictions, however – and a spokesperson for the Korean Ministry of Health and Welfare argued on Monday that "when you run faster, you spit out more respiratory droplets." He defended the usefulness of face masks, suggesting they weren't enough to combat the spread of the virus.
Also on rt.com
Maker of South Korea's first advanced fighter jet allegedly hacked, scores of secret docs stolen
South Korea, which was initially praised for its skill in clamping down on Covid-19 last year, has seen its fortunes reversed, facing a third record-setting day in its number of cases. The Disease Control and Prevention Agency announced on Saturday that over 1,000 of the 1,378 newly discovered cases were from Seoul, Gyeonggi Province, and Incheon, where intense control measures also include the shutting down of nightclubs and churches. Visitors will be barred from nursing homes, while hospitals, weddings, and funerals will be cut back to family-only guest lists.
The nation has seen a total of 169,146 diagnosed cases of Covid-19 since the beginning of the pandemic, with 2,044 deaths.
Like this story? Share it with a friend!
You can share this story on social media: