3 dead after knife-wielding man goes on rampage in Germany's Wuerzburg (VIDEO)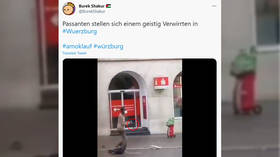 Police in the German city of Wuerzburg have shot and arrested a suspect after three people were fatally stabbed and several others injured. A number of passers-by reportedly confronted the attacker before his apprehension.
A "major police operation" was announced by local authorities on Friday afternoon, with law enforcement stating shortly afterwards that they had arrested a suspect.
Police later confirmed that three people died in the incident, but did not offer any precise information on the number of injured. They also said that officers used firearms to subdue the perpetrator, whom they identified as a 24-year-old Somali man.
The suspect was apparently known to police, with Bavarian Interior Minister Joachim Herrmann telling reporters that he had previously been "forcibly committed to psychiatric treatment."
Video footage purportedly shot at the scene of the incident showed police confronting a masked man armed with what appeared to be a long knife.
Another video clip apparently shows police officers kneeling atop the downed suspect, arresting him.
Bavarian Minister-President Thomas Soeder expressed shock at the incident, and thanked "the courageous intervention of many citizens," who reportedly confronted the attacker.
Think your friends would be interested? Share this story!
You can share this story on social media: