IDF shells Lebanon after claiming rockets were launched toward Israeli territory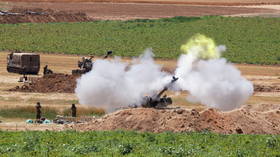 The Israeli military said it fired artillery shells into Lebanon in response to several rockets allegedly fired from across the border. Tel Aviv claimed none of the projectiles reached Israeli territory.
"[Six] rockets were just fired from Lebanon toward northern Israel, all of which fell inside Lebanon. In response, our artillery forces fired toward the sources of the launches," the IDF said in a tweet late on Monday night.
6 rockets were just fired from Lebanon toward northern Israel, all of which fell inside Lebanon.In response, our artillery forces fired toward the sources of the launches.

— Israel Defense Forces (@IDF) May 17, 2021
Blasts were reportedly heard around the Misgav Am kibbutz in northern Israel shortly before the IDF announcement, triggering air raid sirens, and unconfirmed video footage has circulated online purporting to show the counterattack.
The exact number of rockets fired remains unclear, with Lebanese security sources cited by AFP stating that three were launched from Lebanon. A video purporting to show the remains of one of the munitions has also made the rounds.
Around 22 shells were launched by the IDF in retaliation, a Lebanese military source told Reuters, though there have been no reports of casualties or damage on either side.
The United Nations peacekeeping mission in Lebanon, UNIFIL, also said it detected rocket launches from the vicinity of Rashaya al-Foukhar, a village near the border, and that the IDF had returned fire. UNIFIL chief Stefano Del Col "was immediately in contact with counterparts in the [Lebanese Army] and IDF commands urging the parties to exercise maximum restraint in order to prevent any escalation of the situation," the agency said, adding that the IDF had stopped its shelling.
The reported exchange comes just days after the IDF alleged another burst of rocket fire from southern Lebanon, saying the projectiles landed in the Mediterranean and giving no indication that it would respond. A representative for Hezbollah, a militia group and political organization founded in the 1980s to resist an Israeli incursion into southern Lebanon, denied any involvement in the attack.
Both incidents follow more than a week of renewed fighting between Tel Aviv and Palestinian militants based in Gaza, which has left at least 212 Gazans dead, including some 61 children, as well as around 1,500 injured. Ten Israelis have been killed by rocket fire, among them two children and one soldier.
Also on rt.com
Three rockets fired at Israel from Lebanon amid escalating violence between Israeli Army & Palestinian militants
The violence sparked off last Monday on the heels of days of heated protests over the looming eviction of Palestinian residents in East Jerusalem, seeing harsh police crackdowns and hundreds injured in the resulting clashes. An incident at Al-Aqsa mosque, in which Israeli security forces fired stun grenades and tear gas at worshipers, served as a flashpoint, with Hamas and other militant groups firing their first volley of rockets into Israeli cities soon after.
The Joe Biden administration has repeatedly insisted on Tel Aviv's "right to defend itself" amid the flare-up, offering little criticism of civilian casualties inflicted under Israeli air raids – such as the 10 killed in a strike on a crowded refugee camp last week, including eight children. Biden himself reiterated that stance after a call with Prime Minister Benjamin Netanyahu on Monday, though he also urged for a ceasefire and "encouraged Israel to make every effort" to protect civilians.
Think your friends would be interested? Share this story!
You can share this story on social media: