Karin Kneissl: Are sanctions the sharp sword of a strong foreign policy, or a sign of weakness?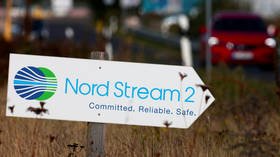 Over recent months, we have witnessed an escalation of economic sanctions, incendiary remarks by global leaders and mass expulsions of diplomats. The situation has been spiraling out of control.
Now, there seems to be a demand for talks, as suggested by Foreign Minister Heiko Maas. Chancellor Sebastian Kurz of Austria is of the same opinion. But further delays in the construction of Nord Stream 2 could result in a new round of sanctions.
Some see sanctions as a foreign policy tool used to enforce a certain behavior. Others, however, characterize these international punitive measures as a 'substitute for a non-existent foreign policy'. An instrument that was reserved for exclusive use by the UN Security Council in consultation with the international community and in strict accordance with the UN Charter has, over the last few decades, become an indiscriminate and arbitrary tool that defies international law.
The US' questionable claim to extraterritorial jurisdiction
Getting the UN Security Council to pass a resolution is not an easy task. Strict UN sanctions were used against Iraq and its weapons programs in the 1990s, and, from 2005 onwards, international sanctions have also been imposed on Iran; in both cases, they were approved by the UN Security Council, making them legally binding for all UN members. With the signing of the Iran nuclear deal in July 2015, sanctions were lifted. America is the only country committed to re-activating them. Its efforts fail, however, as almost all other members of the UN Security Council object to them – both the veto-wielding permanent members and the non-permanent ones that serve two-year terms and cannot block resolutions.
The fact that Iran's hasn't seen any of the long hoped-for foreign investment since 2015 has to do with US sanctions that remain in force. No high-ranking bank would dare fund projects of a EU-based company because of the fear of falling under US sanctions. The United States extends its jurisdiction and asserts its criminal law system beyond its borders and even makes foreign nationals subject to its laws, which runs counter to basic principles of international law.
In the 1990s, the US Congress passed a piece of legislation called the Iran and Libya Sanctions Act. Under it, companies that did business in either of these two countries (producing oil, for example) were threatened with having their assets frozen – among other things. Dozens of international corporations operated in both countries, but nothing happened. I remember how the representatives of these companies declared, with confidence, that they would accept any potential lawsuits.
Thirty years later, things have changed. The fear of being thrown out of the US financial market is real. In 2012, the US got serious about disconnecting Iran's Banks from the SWIFT financial messaging system. For four years the country was blocked from receiving or transfering funds abroad. Iran continued to export natural gas in volumes set by the UN Security Council. The country hadn't received any money for the gas until 2015, when it was reconnected to SWIFT.
The deals involved billions of dollars, and much of the business had to be done in the form of barter trade. For a time, Turkey would pay in physical gold – before the US blocked that road, as well. Then, in the financial hub of Dubai, some resourceful Iranians devised alternative ways of circumventing this financial boycott. There is no limit to creativity in illegal trade when your adversaries seem to revel in imposing sanctions. In times like these, the black market thrives – in the financial sphere, too.
Also on rt.com
Proposal to ban ALL Russians from EU would hurt bloc's economy, Moscow warns, after ex-Estonian president pitches radical policy
Smart sanctions are not so smart
To minimize 'collateral damage' (former US Secretary of State Madeleine Albright's infamously argued that Iraqi children dying of starvation due to sanctions was a necessary cost) the White House came up with 'smart sanctions'. These would be aimed not at the entire economy and population of a country, but at specific individuals. The same logic was used in the various US and EU-imposed sanctions during the Crimean crisis in the summer of 2014. The people affected, whether in the administration, in senior positions of energy companies or in political offices, were limited in their ability to travel.
A particularly absurd example is the Russian ambassador to the United States not being allowed to come to Brussels because of EU sanctions. The list of these 'smart' sanctions is getting longer and longer – most recently, it was expanded just two weeks ago. Even if people no longer engage in activities for which they have been sanctioned, they tend to remain on those lists for a long time.
Dialogue instead of sanctions
When some people demand cooperation with Russia instead of confrontation, it means that they have an understanding of basic diplomacy. If one would try to reduce diplomacy to a mathematical formula, it would look something like this: Diplomacy = maintaining dialogue + under any circumstances.
These demands by some European politicians are important and correct – however, most of the time, emotions prevail. And then there is the mighty US Congress, which has always used its president as a scapegoat. If you look at the construction schedule of the Nord Stream 2 project, which is expected to be completed in the next two months, you can already see the next round of sanctions. Had it not been for the sanctions of recent years, the gas pipeline from Russia to Germany, which is being built parallel to the existing Nord Stream line, would have been long completed. But the companies in charge of laying pipe on the seabed – and the insurance companies participating in the project – have abandoned the project. The US Congress is clearly determined to bring down Nord Stream 2. As foreign minister, I mentioned in an interview the risk that the pipeline could be completed but never see use – for instance, if no technical company or state agency issues certificates allowing it to operate.
It is possible that the US will make the German government choose: either a 25% tariff on car imports – or the Russian pipeline. In any case, the policy pursued by Donald Trump on this matter remains unchanged. Ultimately, construction spending could be reduced by about €20 billion. The "pacta sunt servanda" principle (from Latin "agreements must be kept") would be seriously undermined for many years to come – not only for German companies, but for the state, as well. Litigation for damages would keep the courts and the law firms busy for a long time. Turns out that having an exit strategy is a great thing not only in times of war. The spiral of sanctions must be reversed without losing face.
Also on rt.com
EU Parliament mulls block on Nord Stream 2 gas pipeline & banning Russia from SWIFT system, despite leaders' calls for dialogue
Sanctions and the boomerang effect
The very fact that sanctions are now used indiscriminately and, because of that, might essentially bring the economic life to a standstill, can also trigger other consequences. Getting out of the US-dominated payment networks, whether we're talking about credit cards or the SWIFT system, is something that more and more nations are pursuing through bilateral or multilateral partnership deals.
With its recent round of sanctions against China and Russia, the European Union has started a war on two fronts. New payment networks are increasing their presence on the market. Former European Commission President Jean-Claude Juncker campaigned for Europe's own SWIFT system way back during the financial crisis of 2008-2009. It hasn't come to that yet, since when it comes to sanctions, the EU itself is very vulnerable. European businesses, for one, are paying a heavy price for sanctions on Russia.
It could be that the worst of the sanctions craze is already behinds us, and some facts already indicate that. The exchange of blows over Nord Stream 2 could mark a certain milestone, regardless of where the situation might be headed afterwards.
In any case, more thinking and less acting on impulse would be a practical solution. However, too many key offices have no adults occupying them who would be capable of thinking through their decisions, see the perspective and act accordingly. If someone wanted to finally downsize the sanction game at the EU level, that would require formulating a clear political line. There wouldn't be any need to break up the unanimous vote, however – this is about essential decisions, not hollow political lecturing.
Think your friends would be interested? Share this story!
The statements, views and opinions expressed in this column are solely those of the author and do not necessarily represent those of RT.
You can share this story on social media: