French police administrative officer fatally stabbed, suspect shot dead at the scene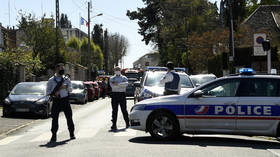 A French police administrative officer was stabbed at the local precinct in Rambouillet, in the Yvelines region. Armed officers shot and arrested the assailant, who later died from their injuries.
The incident occurred at approximately 2:20pm local time when the suspect lunged at the officer with a knife, mortally wounding her. Responding officers opened fire and managed to arrest the suspect at the scene.
French media report the 49-year-old administrative officer went into cardiac arrest at the scene after having her throat slit. The injured woman succumbed to multiple stab wounds moments later after receiving emergency treatment at the scene, according to media reports.
The victim was survived by two daughters, one of her friends told French media.
France's anti-terrorism prosecutor later said he was taking charge of the investigation into the attack because the perpetrator had previously scouted the site and because of what he said during the attack.
A judicial source close to the probe has claimed that the man shouted "Allahu Akbar", which means "God is Greatest" in Arabic. Police sources earlier denied such comments were made.
Media reports claim that the attacker held Tunisian nationality, but was registered in France legally and had all the necessary papers. However, BFM TV reported that his residency card was to expire later this year.
French President Emmanuel Macron reacted to the attack in a tweet, offering his condolences to the victim's family while promising: "We will stop at nothing in our resolute fight against Islamist terrorism."
Prime Minister Jean Castex and Interior Minister Gerald Darmanin both attended the scene of the stabbing in the city of Rambouillet, home to some 26,000 people, located approximately 60km southwest of Paris.
Think your friends would be interested? Share this story!