Facebook and Instagram go down for reasons unknown: 'Something went wrong'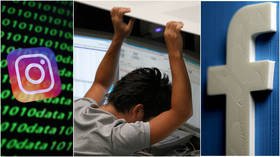 Facebook and Instagram, which is owned by Facebook, have suffered a major outage, prompting users to flock to Twitter to vent their frustration. While both sites swiftly recovered, no explanation was given for the issue.
Tens of thousands of users reported outages on both platforms on Thursday, according to the tracking site Down Detector, with more than 130,000 reports for Facebook alone.
Instagram later addressed the issue in a tweet, saying it is aware that "some people are having issues right now" and that it would have the problems fixed as soon as possible. Facebook, however, has so far kept mum about the outages.
Although the issue did not last long, and both Facebook and its photo-sharing app appeared to come back online in less than half an hour after the first reports of the outage came in, the brief blackout was enough to send blindsided users into full-blown panic mode.
Countless netizens swarmed to Twitter to voice rage about the glitches, some frantically refreshing their Insta page in hopes it would come back.
Facebook and its subsidiaries, including its chat platform WhatsApp, are no strangers to widespread tech meltdowns, having seen another major outage as recently as last month. As with Thursday's issues, those glitches were quickly sorted out, but nonetheless triggered panic and despair from engagement-hungry netizens around the globe.
You can share this story on social media: