'Restrict contact to absolute minimum': Merkel extends German national lockdown until at least end January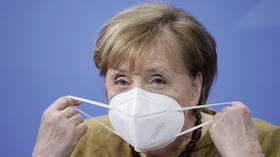 Germans will have to limit contacts to a "minimum," Chancellor Angela Merkel said, as she announced that the national Covid-19 lockdown is being both toughened and extended until the end of January, amid soaring infection numbers.
"We need to restrict contact more strictly... We ask all citizens to restrict contact to the absolute minimum," Merkel told journalists on Tuesday.
Shops, bars, and restaurants in Germany, as well as schools, will remain shut at least until the end of January, Merkel announced, following a video conference with the leaders of the country's 16 federal states. The government is aiming to reduce infection rates to fewer than 50 cases per 100,000 residents before any restrictions will be lifted.
Also on rt.com
Germany to face wave of bankruptcies & soaring unemployment with Berlin poised to extend Covid-19 lockdown – experts
"There is no reason to give the all-clear," Saxony's Prime Minister Michael Kretschmer said during the joint press conference with the chancellor, adding that Germany is in the midst of the "toughest, toughest months of the pandemic."
On top of the existing restrictions, gatherings will now be limited to the members of one household and just one person from outside of it. Previously, up to five people from two different households could come together.
Several regions with particularly high infection rates will now be declared epidemic hotspots. As soon as the infection rate reaches 200 cases per 100,000 people there, the movement will be restricted to a 15-kilometers radius from homes for one week. The rules would apply to only "non-essential travel."
The new measure has already sparked some criticism from the opposition. The deputy head of the liberal Free Democrats' parliamentary faction, Michael Theurer, argued the restrictions would disproportionately affect residents of rural areas while changing hardly anything for city dwellers.
Also on rt.com
Germany still 'very far from normality' as daily Covid-19 death toll surpasses 1,000 for 1st time – health minister
Merkel called the new measures "justified, even if they are hard." The government is also scheduled to review the currently agreed policies on January 25.
Germany imposed a partial lockdown back in November and further tightened it in mid-December, by closing schools and shops, when the initial measures did not yield the expected results.
The infection numbers continued to rise through December, reaching a record of almost 50,000 new cases per day on December 30, only to fall to a daily average of between 10,000 and 12,000 in early January. Still, the numbers remain well above the target figures set by the government.
Think your friends would be interested? Share this story!
You can share this story on social media: