International Red Cross worker killed in Yemen airport attack, 2 missing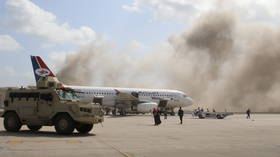 At least one staff member with the International Committee of the Red Cross (ICRC) was killed in an attack at Aden airport in Yemen on Wednesday, the agency has confirmed. Two other ICRC workers are unaccounted for.
Explosions and gunfire broke out at the airport shortly after a plane carrying the newly formed cabinet for the government-controlled parts of the country touched down. More than 20 casualties have been reported.
A second explosion was reportedly heard close to the presidential palace, where members of the cabinet were taken to safety after fleeing the airport assault. The attacks took place after officials arrived in Aden from Riyadh, where the new cabinet had been sworn in after prolonged coalition talks brokered by Saudi Arabia.
Also on rt.com
Explosion and gunfire shakes Aden Airport in Yemen as plane carrying new government lands (VIDEO)
The ICRC said in a series of tweets later on Wednesday that one of its staff members had been killed at the airport, while three were injured and two more missing.
"Our staff were transiting through the airport with other civilians. This is a tragic day for us and the people of Yemen," the agency said. "We extend our sincere condolences to the families of the victims, and we hope for a speedy recovery for anyone injured."
Also on rt.com
Second explosion heard near presidential palace in Yemen's Aden after deadly blast at airport where unity govt arrived – reports
Yemen's new government comprises members of opposing political factions, including the Saudi-aligned Cabinet of Yemen and and the Southern Transitional Council, a UAE-supported faction. Its formation is intended to represent a national push for unity in the war-torn country.
Earlier on Wednesday, the Iran-backed Houthi rebel movement, which controls the north of Yemen and the capital Sanaa, denied responsibility for the airport assault.
Think your friends would be interested? Share this story!
You can share this story on social media: