Google services back online after global outages of Gmail, YouTube & others prompt panic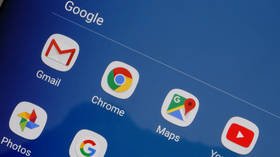 For almost an hour, users across the world reported that Google services were not working for them. The company's main product, Google Search, appeared to be unaffected. The problem now appears to have been fixed.
The outage affected Gmail, YouTube, Google My Business, Google AdSense, Google AdWords and other services, according to complaints.
The names of the mail service and the video platform operated by the tech giant trended on Twitter as people rushed to share their frustration and surprise.
People trying to access the services received a "Temporary Error" message, and a suggestion that it may become available again "in a few minutes."
No comment from Alphabet Inc., the parent company of Google's multiple subsidiaries, was immediately available.
YouTube's support team tweeted, however, that they were "aware" of the issues and were "looking into it."
The problem appeared to be with the part of Google services handling user accounts. YouTube could be accessed in "incognito" mode on a browser supporting the function, such as Google Chrome. However, most of the services on the platform are personalized and require a login, so it was a small consolation to people affected.
Somewhat ironically, an unnamed spokesperson for Google told the BBC that they couldn't comment on the outages because they could not access their Gmail account.
With Gmail down, many users of other email services expressed a bit of schadenfreude. Hotmail, the outdated name for Microsoft's alternative Outlook, even trended on Twitter in the wake of Google's outage.
Think your friends would be interested? Share this story!
You can share this story on social media: