France: 3 killed by attacker shouting 'Allahu akbar' in suspected 'terrorist attack' at Nice church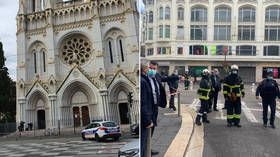 At least three people have been killed and several injured in a knife attack near a church in the Notre-Dame area of Nice on Thursday morning. French authorities claim the perpetrator repeatedly shouted "Allahu akbar."
The public were asked to avoid the area while a major security operation was carried out by armed police.
The victims have been described by French media as a 30-year old mother, a 45-year-old member of the sacristan who had his throat slit, and a 70-year-old woman who was decapitated.
Nice Mayor Christian Estrosi confirmed that the alleged perpetrator has been taken into custody. He thanked police for their quick response and said that the alleged perpetrator kept repeating the phrase "Allahu akbar," during the attack.
"Our country can no longer be satisfied with the laws of peace to annihilate Islamo-fascism," Estrosi said in a Twitter statement, accompanied by the hashtag #SamuelPaty, in honor of the French teacher who was murdered 13 days ago.
The motive for the attack remains unclear but the mayor confirmed, based on the evidence so far, it was a terrorist attack. France's anti-terrorism prosecutor's department has launched an investigation into the incident.
The police have carried out a controlled explosion in the area and have asked the public to steer clear while bomb disposal teams have been conducting their work.
Interior Minister Gerald Darmanin has called an emergency meeting to assess the situation and announced he would deploy a crisis unit to help manage the ongoing security operation.

The attack took place just one day after the French interior minister warned that the terrorist threat in the country is "very high" amid rising tensions following the decapitation of educator Paty in an apparent Islamist attack.
The school teacher was killed after showing pupils various cartoons depicting the Prophet Mohammed during a lesson about freedom of speech.
Darmanin said France must continue to fight against "rampant Islamism which is arming people ideologically."
Like this story? Share it with a friend!
You can share this story on social media: