Astronomers catalogue 1,000 worlds that can 'see' Earth – and are candidates for possible COLONIZATION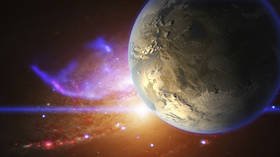 Two astronomers have rethought the search for extraterrestrial intelligence by producing a 'star map' of exoplanets that have a direct line of sight of our planet as it crosses in front of our sun.
Monitoring planets as they transit between an observer and their star is one of the main methods by which we Earthlings discover potentially viable exoplanets for colonization, so the thinking behind this new research is that equally advanced civilizations would use the same method to find us.
Transits provide crucial information about a planet's composition and atmosphere, and thus viability for hosting life.
Lisa Kaltenegger, associate professor of astronomy at Cornell's College of Arts and Sciences, in New York, and director of its Carl Sagan Institute, and Joshua Pepper, associate professor of physics at Lehigh University, in Pennsylvania, compiled a list of 1,004 such potentially habitable exoplanets, with stars similar to our sun, all within 326 light-years (100 parsecs) of Earth.
Using data from NASA's Transiting Exoplanet Survey Satellite (TESS) star catalogue and the Gaia star map, the pair whittled down a vast number of exoplanets to just those that would be able to detect traces of life on our planet if they possessed similarly advanced civilizations to our own.
The exoplanets all align with the Earth's ecliptic, or plane of orbit around the sun, which would grant them a viewpoint to observe our biosphere.
Some 508 of the planets on the list have a minimum 10-hour window in which they can see the Earth on each orbit.
Also on rt.com
NASA shares stunning IMAGE of Earth-sized planet that could harbor alien life
"Let's reverse the viewpoint to that of other stars and ask from which vantage point other observers could find Earth as a transiting planet," Kaltenegger said.
"If we're looking for intelligent life in the universe that could find us and might want to get in touch" she added, "we've just created the star map of where we should look first."
Meanwhile, our own transit observations of potentially habitable exoplanets out there in the universe are set to increase massively with the launch of NASA's James Webb Space Telescope in 2021.
Think your friends would be interested? Share this story!
You can share this story on social media: