Japanese designer Kenzo Takada, founder of Kenzo brand, dies of coronavirus aged 81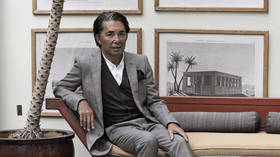 Kenzo Takada passed away at Neuilly-sur-Seine hospital in France after suffering from Covid-19, a spokesperson for the Kenzo founder announced.
Born in 1939 in Japan, Takada was famous for his work as a fashion designer in Paris and is perhaps most well known for creating the worldwide brand Kenzo, which includes clothes, beauty products, and perfumes.
Takada's most famous brand, Kenzo, was acquired by LVHN (LVMH Moët Hennessy Louis Vuitton) in '93 for approximately $80 million. The brand continues to be successful to this day, with a flagship store being opened in Manhattan just this year.
Takada stepped down as creative director in '99 to pursue other artistic endeavors, though he was still highly in-demand, designing for celebrities such as Rihanna and Beyonce.
Beyond his work as a designer, Takada also sat behind a camera to direct the 1981 film 'Yume, yume no ato.' He was also the honorary acting president of the Asian Couture Federation, which seeks to promote and support designers in Asia and other nations.
Even after his retirement from fashion designing, he has still worked occasionally since then, announcing the launch of the luxury home and lifestyle brand known as K3 in January of this year, which included designs for everything from furniture to carpets to ceramics.
You can share this story on social media: