'Huge step back?' 30 years into German unity risks of new Cold War between Moscow & West are rising, German ex-diplomat tells RT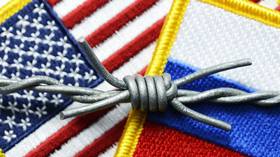 Germany's reunification 30 years ago could have started major cooperation between the US, Europe and Russia, a former German diplomat told RT. Yet he fears the situation now may be heading straight towards a new Cold War.
Germany celebrates the day of national unity on October 3, a holiday marking the moment in 1990 when capitalist West Germany and socialist East Germany officially merged into one state once again. With Moscow still having a sway over the situation in the East, the historical reunification could not have been possible without the tacit support of the then-Soviet leader Mikhail Gorbachev, who repeatedly stated that the Germans should determine their fate themselves.
The reunification was followed by the adoption of the Paris Charter for a New Europe – a universal document signed by 32 European nations, including the former members of the Soviet bloc, the US and Canada.
Also on rt.com
Less than the sum of its parts: German reunification thirty years on
"If it [had] happened as we had decided [at that time] and the cooperation zone from Vancouver to Vladivostok had been created, everyone, including the West, Russia, the former Soviet states and Americans, would have benefited from it, including from a strategic point of view," veteran German diplomat Frank Elbe told RT Deutsch.

"That would be an incredible synergy in political and economic fields," Elbe, who served as ambassador to Poland, India, Japan and Switzerland, said.
When asked why the ambitious project never turned into reality, the diplomat alleged it "became less important to the Americans."

"I can only guess, and only based on US sources."
Following Russia's financial troubles in mid 1990-s, the US administration and certain think tanks attempted to "reorganize ties with Russia and Eurasia," Elbe told RT.
"The main promoter of this idea was Zbigniew Brzezinski."
Brzezinski was one of the best-known US foreign policy strategists and served as National Security adviser to former US president Jimmy Carter. In his 1997 book 'The Grand Chessboard: American Primacy and Its Geostrategic Imperatives,' he argued that the US remained the only superpower following the collapse of the Soviet Union. Brzezinski also argued that Washington should be very active in Eurasia and prevent the emergence of other rival powers who might threaten the US influence there.
"This is of course something that differs a lot from the CSCE [later OSCE] position back then," which aimed at deescalating tensions during the Cold War, according to Elbe.
Now, he warned, "I get the impression that we are taking a huge step back towards the Cold War." Still, the ex-envoy does not yet fear an open military confrontation between Washington and Moscow.
Also on rt.com
Macron is right, Europe must come out of America's shadow and reject the bipolar, Cold War era world view pedalled by Washington
The logic of domination and confrontation poisons not just relations between Washington and Moscow but between the US and its allies in Europe as well.

"It seems that Americans count us [Germans] among their imaginary adversaries and believe we prevent them from succeeding in their … policy of dominating Eurasia," Elbe said, referring to the reports of some US think tanks like Stratfor, which have defined economic cooperation between Russia and Germany as a threat to America's strategic interests and called Berlin a source of a danger to NATO integrity.
Elbe cited Washington's vehement opposition to the Nord Stream 2 gas pipeline project, in which both Russia's gas giant Gazprom and Europe's big energy corporations such as Shell, Engie, Uniper and OMV are involved, as an example.

"The Americans are just horrified by the fact that Europe pursues its own independent policy. They link the Nord Stream 2 to Germans, although it is not a German-Russian project but one in which European companies are involved and which enjoys strong support of other participants as well."
"Our allies consider us troublemakers now," the diplomat said, adding that Berlin is being accused of a desire to uphold "special relations" with Moscow.
Maintaining good ties with Moscow is something that is being taken very seriously in Germany, Elbe said, "because Russia is our close neighbor."
The former ambassador also believes the West was correct to impose sanctions on Moscow, including over the 2014 reunification with Crimea, but keeping them forever may lead to a dead end.

Also on rt.com
US-German relations are beyond repair as result of decades-long clash of views & ideas. Troop pullout is only a symptom
"If you stay in this policy forever, perpetuating it again and again with new sanctions, without trying to negotiate, then what result can you achieve? For easing tensions over Ukrainian crisis this path is flawed," he told RT.
Elbe also believes it is high time for Europe to adopt a certain degree of pragmatism in relations with Russia and get down from its moral high horse of constantly lecturing Moscow.

"We urgently need to lose such habits," Elbe said, suggesting European nations should actively re-engage with Moscow within the Russia-NATO Council and the Normandy Four format designed to resolve the Ukrainian crisis, as well as to start gradually easing the sanctions.
Think your friends would be interested? Share this story!
You can share this story on social media: