Armed man holds people hostage in France's Le Havre, reports claim he demands 'free passage to Al-Aqsa mosque for Palestinians'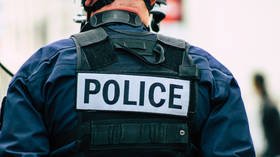 An armed man took six people hostage at a bank in Normandy, France. Media say he's demanding that Israel free "unjustly imprisoned Palestinian children" and let Palestinians under 40 into Al-Aqsa mosque in Jerusalem.
The two demands were given directly to the media, according to RTL. Specialized RAID officers are on site and the surrounding streets have been closed. No injuries have been reported.
A bomb squad team has also arrived at the bank, according to a police union official, amid concerns that a bag at the scene could contain explosives.
A police negotiator is at the scene and in contact with the assailant, while RAID officers have established a perimeter and cordoned off the area.
Five hostages have been released after the negotiator's arrival, leaving one remaining inside.
The spokesperson has described the man as a 34-year-old with a history of psychiatric problems.
The public is being asked to avoid the general area of Boulevard de Strasbourg.
Minister of the Interior Gerald Darmanin has tweeted that he is monitoring the situation "very carefully" and is in contact with police. He urged citizens to respect the current security perimeter and avoid the area.
RTL has also reported that the suspect has a criminal record, including charges for kidnapping and forcible confinement.
After speaking with a negotiator, the captor released a fifth hostage, meaning there is only one left in the bank. He told police on the scene to disperse or he would "blow everything up," but only a handgun has been reported in his possession and there are no reported injuries among the hostages released.
A public prosecutor has also been brought to the scene, according to local media.
Think your friends would be interested? Share this story!
You can share this story on social media: