Duterte signs Philippines anti-terrorism law, giving sweeping powers to security forces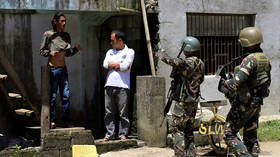 The Philippines president has signed into law a hotly debated anti-terrorism law weeks after he claimed insurgent groups fighting against the government have taken advantage of the Covid-19 epidemic.
Overwhelmingly supported by both houses of parliament earlier this month, the 2020 Anti-Terrorism Act has now been approved by Rodrigo Duterte, local media reported on Friday, citing presidential spokesperson Harry Roque.
The legislation sets up a new entity called the Anti-Terrorism Council, which will be able to permit security forces to arrest terrorist suspects without a court warrant and detain them without charge for up to 24 days. Existing laws prescribe that such detainees must be brought to court within three days.
It also outlaws"inciting others" to commit terrorism "by means of speeches, proclamations, writings, emblems, banners, or other representations tending to the same end."
Members of law enforcement agencies will now be less accountable for misconduct – they will no longer be required to pay roughly $10,000 for every day of wrongful detention.
Duterte also vowed to be tougher on terrorism and insurgency. In June, he said that Abu Sayyaf – a local Islamic State (IS, formerly ISIS) offshoot – as well as the rebellious Communist Party of the Philippines had taken advantage of the Covid-19 crisis.
The counter-terrorism law has been met with stiff opposition from local rights groups and activists, who urged the government to reverse the measure. Critics argued the definition of terrorism is too vague and could herald a crackdown on those who simply "displeased the president."
The Department of the Interior and Local Government, which oversees the national police force, dismissed those concerns, assuring the populace that "people have nothing to fear from this bill; it is only the terrorists and their supporters who should fear it."
Think your friends would be interested? Share this story!