Danish political parties push for ban on calls to prayer, sidestep constitutional issue by not mentioning Islam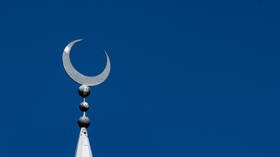 Several Danish political parties are urging the government to investigate banning calls to prayer due to the disruption they cause. But the move makes no mention of Islam because of likely issues with Denmark's constitution.
Denmark's second-largest party, Venstre, is leading the parliamentary push to ban prayer calls such as those played through loudspeakers by mosques, arguing that they're "very disruptive."
The Danish People's Party, the Conservatives, and the New Right joined Venstre in presenting a resolution on the issue to parliament, Danish news outlet DR reports. Together, the four parties command 71 of the seats in Denmark's 179-seat parliament.
Venstre member of parliament Mads Fuglede said the move is sparked by the disruption caused by the calls to prayer, which are known in Arabic as the adhan, and the fact they have not traditionally been heard in Denmark.
"For Venstre, it is not about a single religion, although I realise that prayer calls are often linked to Islam. Prayer calls are not something we have a tradition for in Danish society. We think that it will be very disruptive in Denmark," Fuglede explained.
Also on rt.com
'Role play'? Swedish schoolkids made to kneel in gender-segregated MUSLIM prayer & told to listen to Koran in Arabic
The debate about minaret calls in Denmark has rumbled on for several months, ever since a mosque in Gellerupparken, near Aarhus, played the call from a local football field instead of from the mosque, as the latter was shut due to the coronavirus pandemic.
It was the first time a public call to prayer had been heard in the Scandanavian country, and lawmakers have been debating its legality.
The resolution put forward by the four parties this week does not specifically mention Islam or any religion, referring instead to a ban on prayer calls using speakers in a public place.
Rasmus Stoklund, a spokesman for the ruling Social Democratic Party, says the government "essentially agrees" that prayer calls shouldn't be allowed in Denmark, and Integration Minister Mattias Tesfaye is investigating the legality of having them banned.
However, the proposed ban would potentially violate the constitution if it is aimed specifically at Islam, and there are fears that it could affect Christian churches too, if the law is too broad.
"If we make legislation now, we also run the risk of it hitting the church bells of the Danish Church, and that we are on edge with constitutional rights on religious freedom and various conventions," Stoklund said.
Calls to prayer violate regulations in many countries, but the laws are being relaxed in some places. Denmark's neighbor Sweden first allowed them to be played in public in 2013.
The issue has also been debated in the UK, in recent months, as mosques there were permitted to call worshipers to personal prayer through loudspeakers for the first time, so as to encourage them to stay – and pray – at home amid the coronavirus pandemic. The development prompted calls from leading clerics for the practice to be allowed to continue in the future.
Also on rt.com
Make it PERMANENT! UK mosques broadcast Ramadan calls to prayer through LOUDSPEAKERS during Covid-19 and want to keep it that way
Like this story? Share it with a friend!
You can share this story on social media: