Genuine protest, or latest woke trend? Do people around the world 'taking a knee' care about BLM, or is it just virtue-signaling?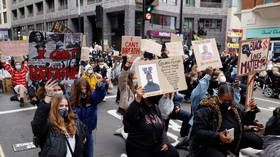 Hundreds of people outside the United States were kneeling in protest sparked by the death of George Floyd, though some are beginning to question whether the trend is empty virtue signaling as more and more people do it.
In Turin, Italy, hundreds could be seen not only kneeling, sitting en masse to protest.
Over in the Italian city of Bari, protesters reportedly knelt for a full eight minutes, with some even singing the song 'One Love' by Bob Marley.
Hundreds knelt together in England as well.
Citizens demonstrated outside the US Embassy in Paris, France too, at one point taking to kneeling and raising their fists. Speakers at the protest not only mentioned Floyd, but also Adama Traoré, a Malian French man who died in the custody of the French police in 2016, sparking protests against police brutality.
The police had earlier issued a decree banning the protest in the city, noting that gatherings of more than 10 people in public is still prohibited due to the Covid-19 pandemic.
An even bigger crowd, reportedly in the tens of thousands, also took to the streets of Sydney and Brisbane, Australia to protest.
Kneeling has moved beyond just protesters in some nations, with police officers and even politicians joining in on the trend. Canadian Prime Minister Justin Trudeau knelt on Friday in Ottawa at a demonstration, though he was quickly mocked by Twitter users who brought up an infamous blackface photo from his past.
Some have criticized the trend of kneeling, suggesting government officials and white people taking part in it is empty activism and a result of herd mentality growing around the gesture.
"I need cops and politicians and white people more broadly to stop kneeling. We don't need you to kneel. We need you to stand up for real, radical, sustained change," liberal writer Roxane Gay tweeted on Friday.
Black Trump supporter and pundit David J. Harris Jr. agreed, posting this week that seeing white people kneel over injustices to black communities is "disgusting."
Like this story? Share it with a friend!
You can share this story on social media: