No need to test EVERYONE, but when lockdowns are lifted Covid-19 cases could JUMP back up, WHO warns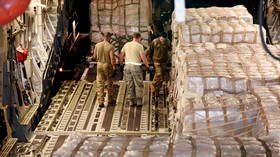 Countries affected by the Covid-19 epidemic may have to deal with a resurgence of the disease after they lift lockdowns, a top WHO official has warned. To create a vaccine could take at least a year, he said.
"If we don't put in place the strong public health measures now, when those movement restrictions and lockdowns are lifted, the danger is the disease will jump back up," Dr. Mike Ryan has stressed.
Ryan, who serves as the head of the Health Emergencies Programme at the World Health Organization, also made an apparent reversal on previous advice from the UN body, saying there was no need to test everyone for the coronavirus.
"We need to actively search for cases of the virus and we need to test every single suspected case," he said.
We don't need to test everybody. We need to focus on testing those who may have the virus.
Earlier the WHO had been criticized by Finland for asking governments to carpet-test their citizens to deal with the outbreak.
Also on rt.com
Finland scoffs at WHO's coronavirus testing protocol, suggests organization doesn't understand how pandemics work
Countries affected worst by the pandemic have been imposing bans on public gatherings, travel bans, and even curfews to slow down the virus. But many people break the restriction because they don't want to observe them, or because their livelihoods have been endangered by the restrictions. The examples of China, South Korea and Singapore, which managed to reign in the virus through restrictions on social life and rigorous testing of potential carriers, should serve an example to Western nations, Ryan said.
The vaccine, which will eventually be developed, is needed "to take the battle to the virus," the health official told the BBC's Andrew Marr Show. Until then governments should focus on stemming the spread of the disease and saving the lives of those affected worst.
The latter includes not only the elderly but also middle-aged people, contrary to a popular misconception, he said.
In [South] Korea 19 percent, or one in five of the deaths were under 60 years of age. And in intensive care today in Italy two of three patients are under 70.
If you like this story, share it with a friend!
You can share this story on social media: