'Worst crisis since WWII': Italy shuts down ALL non-essential businesses in desperate bid to contain coronavirus spread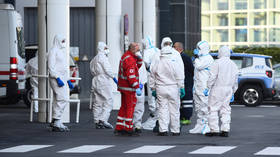 Italian PM Giuseppe Conte has ordered all business and activities that are not vital for providing basic necessities to be closed, extending the nationwide shutdown in the wake of the pandemic claiming record numbers of lives.
Calling the crisis the "most difficult" in Italy's post-war period, Conte announced that only "activities deemed vital for national production will be allowed" until at least April 3.
We are slowing down the country's production engine but we are not stopping it
The PM urged the population to keep calm, stay at home and resist hoarding supplies. He promised that all supermarkets and pharmacies, as well as banking services and essential public transport, will remain open.
Also on rt.com
Italian Army hauls Covid-19 victims' bodies to lesser-hit regions as medics decide who gets help first in makeshift tents (VIDEOS)
While it wasn't clear which factories and businesses will be considered vital to keep Italy running, the government is expected to issue an emergency decree, detailing the new measures and making them effective immediately.
The death toll from the Covid-19 illness in Italy has reached nearly 5,000, with a staggering 793 people confirmed dead on Saturday alone. The Mediterranean nation surpassed China earlier this week to become the worst-hit country in the world with the total number of cases at over 53,000.
The Russian president voiced his support for the leadership in Rome and the Italian people when he spoke with Conte on Saturday, promising to provide protective gear, mobile sanitizers and other medical equipment to Italy. Eight teams of Russian military medics and virology experts are already on standby and could be deployed to Italy as early as Sunday, once Rome greenlights the move.
Also on rt.com
Putin offers to send medical personnel & equipment to help Italy contain coronavirus outbreak
Think your friends would be interested? Share this story!
You can share this story on social media: