Coronavirus death toll in Italy jumps by 475, highest daily rise on record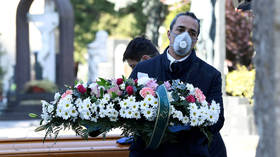 The death toll from the Covid-19 pandemic has surged by 475 in the last 24 hours, reaching 2,978. The increase is the largest daily jump in fatalities since Italy reported its first cases of the deadly illness last month.
The global pandemic has hit Italy harder than any other European country. The latest round of deaths come as the total number of cases in the Mediterranean nation rose above 35,500 on Wednesday, according to the Italian Civil Protection Agency.
Also on rt.com
Europe surges past Asia with Covid-19 death toll of 3,421 - AFP tally
While a nationwide quarantine has been put in place - enforced by police and soldiers, the death toll from the Covid-19 coronavirus has continued to rise unabated in Italy. Hospitals in the country have been overwhelmed, with the number of patients requiring intensive care beds exceeding the system's capacity over the weekend.
You can share this story on social media: