Car rammed German parade crowd in 'attack' injuring dozens, no sign was politically-motivated – police (VIDEO)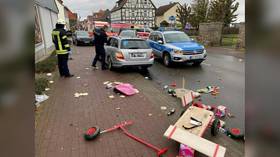 A silver Mercedes was intentionally driven into a crowd during a parade in the central German town of Volksmarsen on Monday, according to police, injuring around 30 people. One suspect has been arrested.
The incident unfolded at around 2:30pm local time during a Carnival procession in the town, when the silver station wagon ran through a barrier and plunged into the crowd.
The male driver was arrested at the scene, with police describing him as a 29-year-old German from the region. Frankfurt prosecutors have said that he is also injured, so cannot be questioned yet.
A police spokesman said that the suspect drove his car into the crowd "deliberately," according to newspaper Die Welt.However, the driver's motives remain unclear and investigators are currently treating the case as attempted homicide.
A woman who identified herself as the suspect's neighbor told the broadcaster RTL that when she saw him earlier in the day, he told her that he'd "be in the newspaper soon," adding that he appeared to be high on drugs during their brief encounter.
Meanwhile, Bild cites police as saying that although they assume it was an attack, there are no indications it was a politically-motivated crime. The German tabloid reported that the man was known to police, and had a record of harassment and trespassing.
Eyewitnesses told HNA that it sounded like the vehicle drove faster as it was approaching the people.
Several of the victims - including children - have sustained serious injuries, police said.
The town was celebrating Rose Monday, a traditional event held annually on the Monday before the start of the Christian period of Lent. Volkmarsen has a population of around 6,800 people, of whom some 1,500 were expected to attend the parade.
All other carnivals in the state of Hesse have been cancelled as a "precautionary measure," police said on Twitter, adding that they currently have no information about the possibility of similar ramming incidents taking place elsewhere in Germany.
The incident comes less than a week after a gunman carried out mass shootings at two hookah bars in Hanau, Germany, killing nine people. The suspect was later found dead at his home along with the body of his mother.
Also on rt.com
German police raid Hanau shooting suspect's home, discover him 'dead with another body nearby'
Think your friends would be interested? Share this story!
You can share this story on social media: