US removes China from currency manipulator list ahead of trade deal signing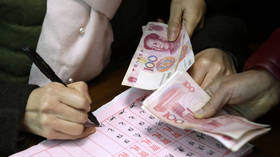 The US Treasury has removed China from its list of currency manipulator as Washington and Beijing are preparing to sign a large-scale trade deal.
The Treasury said in a statement that China agreed to publish relevant data on exchange rates and made an effort to refrain from "competitive devaluation" ahead of the agreement signing.
In its semi-annual report released on Monday, the Treasury said that while China "took concrete steps to devalue its currency," Beijing still needs "to take the necessary steps to avoid a persistently weak currency."
The report explicitly credits the tentative phase one trade agreement between the US and China, struck in December, for helping to bring about the reforms.
Intensive trade and currency negotiations between the United States and China over the last few months resulted in a Phase One agreement that requires structural reforms and other changes to China's economic and trade regime in several key areas, including currency and foreign exchange issues
The report also notes an "extremely large and persistent trade surplus" Beijing enjoys with the US, which it said is "dwarfing all other trade imbalances" between the US and other countries.
The Treasury urged China to boost domestic demand and lessen its economy's reliance on export and investment, apparently to reduce the trade gap.
Also on rt.com
Is Beijing backpedaling on key issue of US-China trade deal?
The US goods trade deficit with China stood at $401 billion as of June 2019, which accounts for about 45 percent of the total US trade deficit from January to June of last year, the report states.
While the Trump administration struck China off the roll of currency manipulators, it has placed Beijing, along with nine other countries, on the Treasury's 'Monitoring List' of major trading partners that "merit close attention to their currency practices."
The list includes staunch US allies such as Germany, Korea, and Japan.
The move to yank China off the blacklist comes more than five months after it was formally designated a currency manipulator in August, a decision that added more fuel to the smoldering tensions between Beijing and Washington, which are locked in a bitter trade dispute.
It comes just two days ahead of the much-anticipated signing of the phase one deal on Wednesday, January 15, which is expected to mark a shaky truce after almost two years of a trade war in which China and the US have slapped tariffs on billions' worth of each other's goods.
Think your friends would be interested? Share this story!
You can share this story on social media: