Libya's warring parties vow to observe ceasefire without preconditions, stop all offensive military actions – draft agreement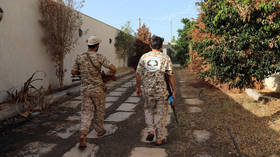 The Libyan National Army (LNA) and the internationally recognized Government of National Accord (GNA) in Tripoli have pledged to observe the ceasefire suggested by Russia and Turkey after negotiations in Moscow.
The draft document suggests that all parties would stop military actions and observe the ceasefire conditions. Meanwhile, a commission is to be established to determine a contact line between the warring sides. Russia and Turkey promised to support all sides in the conflict to help them implement the agreement.
The talks in Moscow, which involved the leaders of the major Libyan warring parties as well as foreign and defense ministers from both Russia and Turkey, lasted for more than six hours and were mostly focused on detailing the terms of the ceasefire regime.
Libya has been plunged into chaos for years after its longtime ruler Muammar Gaddafi was ousted and killed during a NATO-led bombing campaign. Following the years of devastation and chaos, the country became engulfed in a civil war.
Previous lengthy UN-backed talks on reconciliation, which led to the establishment of the GNA, eventually failed to bring peace to the war-ravaged land.
Haftar began an offensive against Tripoli last year and over the last few months the two sides were engaged in intense fighting. LNA controls most of Libya's territory, but it is the GNA which is recognized by the international community.
Also on rt.com
Libya ceasefire talks in Moscow: Good progress made although not all sides signed the deal, Lavrov says
Ankara became involved in the conflict in December promising to send troops to help the government in Tripoli as the international community called on all sides to enter negotiations.
Moscow and Ankara called for all parties in the Libyan civil war to end hostilities and join a ceasefire following a meeting between President Vladimir Putin and President Recep Tayyip Erdogan in Istanbul.
Russia also offered Moscow as a venue for talks between the warring parties.
Think your friends would be interested? Share this story!
You can share this story on social media: