4 Iraqi Air Force servicemen injured as 8 rockets hit base housing US troops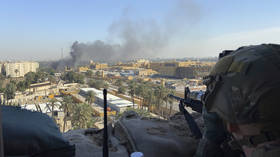 At least four Iraqi soldiers have been injured in mortar shelling targeting Al-Balad airbase housing American troops. The facility has become a frequent target of attacks in the wake of the US killing of a top Iranian commander.
At least eight 'Katyusha' rockets hit the base located some 80 kilometers north of the Iraqi capital of Baghdad, the prime minister's office has confirmed. The rockets allegedly struck a runaway located inside the facility, military sources earlier told Reuters.
There have been no casualties among the US military personnel. No group has so far claimed responsibility for the attack. US Secretary of State Mike Pompeo condemned the strikes, somewhat surprisingly without immediately pinning the blame on 'Iranian proxies'.
These continued violations of Iraq's sovereignty by groups not loyal to the Iraqi government must end.

— Secretary Pompeo (@SecPompeo) January 12, 2020
US bases in Iraq were also hit by a ballistic missile attack from Iran on January 8. The move almost put the two nations on the brink of war, but a large-scale conflict was eventually avoided.
Also on rt.com
US-led coalition confirms rocket attacks near Iraqi bases housing US troops, says no servicemen hurt
It is still unclear who might be behind the repeated attacks on the Iraqi base hosting American troops but such actions do not fit the strategy of Iran or the Popular Mobilization Forces – a group of Iran-backed Shia militias – Ammar Waqqaf, a Middle East analyst told RT.
"These attacks use non-precise weapons. The margins of error are huge. Even if there were American forces at this base, it is still not a solely American base, there are Iraqi soldiers there. So whoever targets this base does not necessarily care about the Iraqi army or personnel," he said, adding that Tehran eventually decided to focus on pushing American forces out of Iraq and out of the Middle East in general through diplomacy and influence on its neighbors rather than through military means.
In fact, anti-Iranian sentiment which has been on the rise in Iraq for quite some time went down in the wake of the assassination of Soleimani by the US, Waqqaf noted, adding that "there was some sympathy and unification among key factions" in Iraq. Tehran or pro-Iranian forces in Iraq would gain little if they shattered this unity by hitting some Iraqi personnel in an attack supposedly aimed against the US.
Also on rt.com
ISIS praises US murder of Iranian general Soleimani as 'divine intervention' that will help them rise again
Following the US's assassination of Soleimani, the Iraqi parliament passed a non-binding resolution last week asking the government to expel foreign troops and to cancel the ongoing request for military assistance from the US-led coalition.
Iraqi Prime Minister Adil Abdul-Mahdi also asked US State Secretary Mike Pompeo to send a delegation to begin preparations for a troop pullout. Washington, however, made it clear that it would not discuss any withdrawal plans, calling the US presence on Iraqi soil "appropriate."
Think your friends would be interested? Share this story!
You can share this story on social media: