Protests, vigils at Iran universities after Tehran admits it shot Ukrainian plane down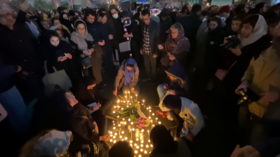 Videos from Tehran show crowds holding vigils and protests at universities after Iran admitted shooting down a Ukrainian plane with 176 on board. Many of the passengers were Iranian students.
People were lighting candles and bringing flowers to several universities in Tehran.
One banner among the many in the crowd read: "What is the costs of the war with the world? what is the cost of lying? #condolence to Iran."
Hundreds of people can be seen outside the University of Amirkabir taking to the streets and chanting "there should be a trial! Resignations are not enough!" and "constitution, referendum!"
Vigils and demonstrations were also held at Tehran and Sharif universities. The plane that was shot down carried many college students.
The General Staff of the Iranian Armed Forces admitted that the plane in question was shot down on Wednesday due to human error, on the day that Tehran was responding to the US killing of Qassem Soleimani.
If you like this story, share it with a friend!
You can share this story on social media: