Military & police on high alert in Omani capital after death of Sultan Qaboos (VIDEO)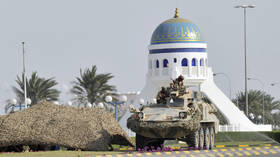 Dozens of armored vehicles and soldiers were seen in the streets of Muscat following the death of Omani Sultan Qaboos bin Said al-Said. The government confirmed that Sultan Haitham bin Tariq Al-Said was sworn in as the new ruler.
In addition to declaring the alert status, which appears to be little more than a precaution, Oman's high military council also called for the royal family to meet to appoint the country's next ruler.
Oman's official television channel announced the inauguration of Haitham bin Tariq Al-Said as sultan of the country on Saturday.
Haitham bin Tariq Al-Said pledged to follow the late sultan's 'non-interference' policy, based on peaceful coexistence and maintaining friendly ties with all nations.
Also on rt.com
Sultan of Oman Qaboos dies after 50 years in power, leaving key Gulf mediator between US & Iran without heir
Qaboos had no children and had not publicly appointed a successor. He passed away at the age of 79 after a lengthy battle with illness, according to Omani state media.
Think your friends would be interested? Share this story!
You can share this story on social media: