'Elite Accountability Insulation button'? Twitter will let users turn off & censor replies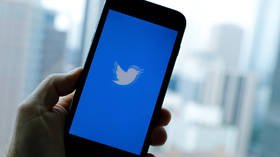 Tweeting spiteful comments at celebrities you don't like is the bread and butter of the social media experience. However, the company is now rolling out options to let users block and control replies, making many angry.
Speaking at the CES convention in Las Vegas on Wednesday, Twitter's director of product management Suzanne Xie announced they would be giving users a new "conversation participants" option sometime this year. The option will allow posters to set replies on their tweets from "global, group, panel, and statement."
The options would control the ability of other users to reply, ranging from anyone (global) to no one (statement), with only those mentioned (panel) or specifically selected (group) in between.
Xie said that the feature is still in development and is an "experiment we're going to run" in the first quarter of 2020, before launching it globally later in the year.
The new feature is intended to limit the power of trolls and combat abuse, according to the company. To that end, Twitter has already given users the option of hiding replies, stating that "everyone should feel safe and comfortable while talking on Twitter." However, this is still a manual process, a laborious task for prolific figures on the platform – such as President Donald Trump, for instance.
With Twitter being all about discussion and argument, the news angered many users, who suggested that limiting replies could stifle debate and allow false information from politicians, journalists and public figures to go unchecked.
The Elite Accountability Insulation button! Specially designed for Beltway hacks and foreign policy insiders seeking to make the restive plebes invisible. "I'm loving the new feature. Twitter has finally become a safe space for my neoliberal bile," gushed Neera Tanden. https://t.co/Btt0FuQaDi

— Max Blumenthal (@MaxBlumenthal) January 8, 2020
Progressive journalist Max Blumenthal mocked the idea as the "Elite Accountability Insulation button" designed to protect "Beltway hacks and foreign policy insiders."
"Powerful people don't like being talked back to," conservative pundit Stephen Miller tweeted, "so Twitter now just becomes a newspaper, the medium it killed."
Should Trump protect his tweets with the "statement" option, droves of #Resistance commenters who obsessively rain scorn on every one of his messages will likely be devastated.
Also on rt.com
'Surveillance Valley' author Yasha Levine's Twitter frozen after post objecting to US pushing for war with Russia in Ukraine
Twitter's previous attempts to shape discussion on its platform have often been ham-fisted. Critics have long accused the company of secretly suppressing unsavory content, a charge it vigorously denied. However, a change to the site's terms of service late last year for the first time acknowledged this, stating that the firm may "limit distribution or visibility" of content and "suspend or terminate users" as it sees fit.
Back in 2018, Twitter announced it would de-rank posts from what it called "troll accounts." That was also met with controversy, as critics accused the social media giant of censorship. The platform's aggressive "hateful conduct" rules have also been slammed as biased and arbitrary.
Also on rt.com
'Shadow banning' written into Twitter's new terms of service, may 'limit visibility' of some users
Like this story? Share it with a friend!
You can share this story on social media: