Iran's overnight strikes on American bases 'a slap in the face' for US – Khamenei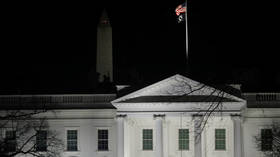 An Iranian missile attack against US military targets inside Iraq has humiliated Washington, Supreme Leader Ayatollah Ali Khamenei has said, urging remaining forces to leave the region.
Khamenei said that the strikes served as a "slap in the face" for the United States, but were not "sufficient" to remove "the corrupting presence of America in the region."
He stated unequivocally that Tehran views Washington as its enemy.
In a separate statement, President Hassan Rouhani said that the US may have "cut off the arm" of assassinated Quds Force commander General Qassem Soleimani, but Iran would respond by severing America's "leg" in the region.
Iran struck Al-Asad airbase in western Iraq, which houses US troops, in the early hours of Wednesday. Another base in Erbil was also targeted. Foreign Minister Mohammad Javad Zarif described the missile attack as a "proportionate measure" taken in self-defense.
Also on rt.com
Iran warns 'Great Satan' America that any new attack will result in 'painful and crushing' response, including against Israel
You can share this story on social media: