Explosion at apartment building in Blankenburg, Germany, at least 1 dead, 15 injured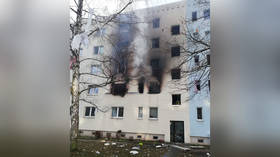 A powerful blast rocked a multi-storey building in Germany's east, killing at least one and injuring 15 people. That number is likely to rise, authorities said after search and rescue operations were completed at the site.
The explosion occurred inside a five-storey residential block in a town of Blankenburg, home to some 20,000 people, local police reported. As many as 160 rescue workers dealt with the disaster, among them fire brigades and paramedics.
Medevac helicopters have also been dispatched to airlift the injured to nearby hospitals. At least one resident have been killed, and 15 people have been wounded.
The building was evacuated, as were a kindergarten and a school located in the vicinity. Adjacent areas were cordoned off, with all the traffic diverted to nearby streets.
The cause of the blast remains unknown. Similar incidents happen in Germany from time to time – the most recent occurred last June, when an apartment block exploded in the city of Wuppertal in North Rhine-Westphalia, injuring 25 residents. The building burned out completely, with large parts of the facade collapsing on the street.
Also on rt.com
Smoke & rubble: 25 injured as blast rocks apartment building in western Germany (PHOTOS)
Think your friends would be interested? Share this story!