Morales arrives in Cuba for a 'temporary visit' – Mexico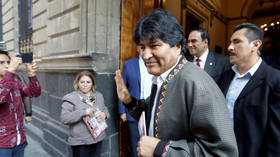 Evo Morales has left Mexico and is now in Cuba, the Mexican Foreign Ministry said, noting that the ousted Bolivian leader told the authorities his trip was "temporary." Morales reportedly flew in to deal with some medical issues.
"With regard to the information circulating about Evo Morales, we specify that Mr Morales departed [Mexico] for Cuba this morning. As he informed us, it is a temporary trip," a spokesman for Mexican Foreign Minister Marcelo Ebrard tweeted late on Friday.
Although Morales himself has yet to comment on his travels, it's reported that the former Bolivian leader, forced into exile by a military coup last month, landed in Cuba for a medical check-up. "President Evo Morales is in Cuba for a medical appointment with the Cuban medical team that treated him in Bolivia," Reuters quoted Gabriela Montano, the former health minister in the Morales cabinet, as saying.
Even before the official announcement of Morales' departure, speculation swirled about his reported trip to "freedom island." Citing "sources," El Pais reported that Cuba was not Morales' final destination. They claimed the politician is looking forward to settling down in Argentina once the nation's newly elected President Alberto Fernandez is sworn into office next Tuesday.
Also on rt.com
Manufacturing consent: How NY Times spins Bolivian coup against 'coca-farming strongman' Morales
This would allow Morales to be closer to his home country, where he will be able to more conveniently handle business for his Movement for Socialism (MAS) party ahead of a new vote, the paper reported.
Morales was forced to step down following his victory in the October 25 election after the military sided with the opposition, which claimed the vote was rigged. Mass protests ensued, stained by violence and brutal clashes between Morales' supporters and police. The unrest also saw his home ransacked by thugs. Fearing for his life, Morales fled to Mexico, where he and several high-ranking Bolivian officials were granted asylum. A new election bill signed into law by self-appointed 'interim' president Jeanine Anez last month voided the result of the October vote, barring Morales from participating in any future election. Morales also faces accusations of terrorism from the new government, which he vehemently denies.
Like this story? Share it with a friend!
You can share this story on social media: