'Unfriendly and unjustified': Moscow slams Germany's decision to expel 2 Russian diplomats, promises to retaliate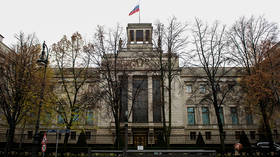 The expulsion of Russian diplomats by Germany is an unfriendly and unjustified move, the Russian Foreign Ministry believes. It promised to respond in kind.
The German government earlier announced it ordered two employees of the Russian Embassy in Berlin to leave the country. It said it was meant to show that Berlin was unhappy with Moscow's response to a German investigation into a high-profile killing of a Georgian man which happened on its soil in August. Berlin said Russia was not doing enough to assist the probe.
Responding to the news on Wednesday, the Russian Foreign Ministry said it considered the German move "unjustified and unfriendly" and that is demonstrated an unacceptable "politicized approach to the investigation."
We are forced to implement an array of retaliatory measures.
Russian Ambassador to Germany Sergey Nechaev released a similarly-worded statement and expressed his disappointment with Berlin's handling of the situation. He said it will "result in a most negative effect on the Russian-German relationship."
"There is and there has never been any evidence that Russian governmental structures have anything to do with this incident," he said
The victim in the murder investigation, who is identified as Tornike K., was shot in Berlin's Tiergarten Park. German authorities alleged the crime may be tied to officials in the Russian government or in Russia's Chechen Republic.
Also on rt.com
Germany expels two Russian diplomats over Berlin murder probe
German media report that the man was Zelimkhan Khangoshvili, a Georgian national of Chechen origin, who may have been involved with the Chechen insurgency in the 2000s. He was allegedly a supporter of terrorist leader Shamil Basaev and a leader of a 60-strong militant group back in the day.
Moscow effectively lost control of the southern Russian region in the 1990s, which allowed warlords and international terrorists to establish a power base there. A large incursion of jihadists into neighboring Dagestan in 1999 triggered a renewal of hostilities which ended with forces loyal to the Russian government prevailing in Chechnya.
Khangoshvili's reported paramilitary career continued into 2012, when he is said to have assisted a Georgian operation against his former comrades, whom he had lured out of Austria and into Georgian territory. According to Bild, the man survived four assassination attempts before leaving his home country and getting asylum in Germany.
Think your friends would be interested? Share this story!
You can share this story on social media: