Bolivia crisis: President Morales calls new elections after international audit but rejects resignation demands as 'coup attempt'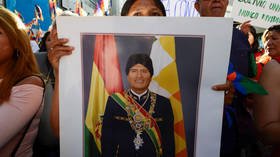 Bolivian leader Evo Morales promised to hold a new election in order to uphold peace and security across the country after the Organization of American States (OAS) mission failed to confirm his win last month.
"I made a decision… to call for a new general election that would allow people to democratically choose the authorities," Morales announced on Sunday. The plebiscite is set to include a new round of voting for the president, the vice president, and the members of both chambers of Parliament. In his address, Morales also promised to completely replace the members of the nation's election commission.
After the snap election was announced, the Bolivian opposition demanded that Morales resign altogether. The president, however, firmly rejected this call, branding it a coup attempt in the making.
"They demand that I resign, this is an attempted coup .... This is unconstitutional and illegal. I have a constitutional mandate that lasts until January next year," Morales told teleSUR.
Earlier on Sunday, OAS issued a preliminary report, saying it is "statistically unlikely" that Morales secured a 10-percent lead, required to avoid a runoff vote. The auditors claimed to have found security flaws in voting software and traces of "clear manipulation" of the vote-tallying system.
Therefore, having been unable to validate the results, the mission recommended holding a new round of elections in the country. Morales requested the audit after doubt was cast on him winning a fourth consecutive term as leader of Bolivia on October 20.
Also on rt.com
'Military dictatorship style': Bolivia's Morales condemns takeover of state TV & radio stations (VIDEOS)
The opposition alleged vote-rigging and staged anti-government demonstrations across the country, while allies of Morales rallied in his support. The protests quickly escalated into clashes with law enforcement and rioting, during which opposition activists attacked pro-government politicians and blockaded the HQ of the state-run media in La Paz.
The president, who denied allegations of tampering with the vote, denounced the chaos in the streets as a coup attempt and slammed the opposition's tactics as resembling methods employed by "dictatorial regimes."
Morales criticized the role of the OAS in South American politics in the past, calling it "the spokesman agency for US interests" and "an overseer of the empire." He also accused its chief, Luis Almagro, of inciting violence in Venezuela and encouraging a foreign intervention in that country.
Argentina's president-elect, Alberto Fernandez, voiced similar thoughts on former leader of Ecuador Rafael Correa's show 'Conversation with Correa' on RT Spanish. He argued that the OAS, which is based in Washington, has grown into a bloc focused on adhering to US policies rather than representing South American nations.
Also on rt.com
Washington-based Organization of American States 'deteriorated', ceased to be inter-American – Argentina's president-elect to RT
Think your friends would be interested? Share this story!
You can share this story on social media: