One person detained after shooting outside German synagogue left 2 people dead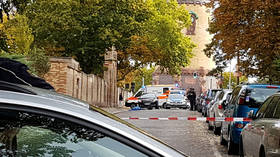 Police have confirmed one person has been detained after a shooting in Halle which left two people dead and others injured. A grenade was also thrown into the Jewish cemetery.
A picture of the alleged shooter has appeared on social media, but cannot be verified yet.
Max Privorotzki, the head of the Jewish community in Halle, told Der Spiegel that two perpetrators attempted to break into the synagogue, between 70 and 80 people were inside at the time.
The shooting falls on the Jewish holiday of Yom Kippur, a strict day of rest, fasting and prayer — and regarded as the holiest day of the year for Jews.
One suspect was detained. The Germany MDR broadcaster and others reported that more perpetrators, possibly armed with machine guns, could have fled the scene in a car.
A photo which appeared on social media was shared by German news outlets and alleges to show the moment of arrest. Reports also suggest the arrested suspect is white and a German national.
Police warned on Twitter that people in the area should still "stay alert" and assured that they are working on stabilizing the situation.
A spokesperson also said security will be increased at the Dresden Synagogue and Jewish cemetery as a "protective measure." Dresden is about two hours from Halle.
Also on rt.com
Two people killed in shooting outside synagogue in Halle, Germany
Germany's Bild newspaper reported that shots were also fired about 15 km away from Halle in Landsberg, saying the information was confirmed by a police source. It is not known if the two incidents are linked.
A large police presence has been deployed to Wiedersdorf located near Landsberg, according to the local media. Some unconfirmed reports suggest that the alleged suspects have entrenched in the area.
Meanwhile, Der Spiegel Magazine reported that German federal prosecutors would be taking over investigations, while the LPZ newspaper said the search for another perpetrator was being concentrated on the Leipzig area.
Think your friends would be interested? Share this story!