Multiple injuries as stolen truck 'rams into traffic' in German state of Hesse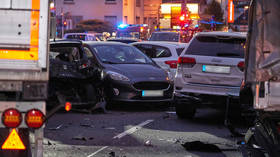 A stolen truck has rammed into traffic in the city of Limburg, Germany, leaving at least nine people injured. The driver has been arrested, though police are still determining whether the crash was an attack or an accident.
The white Mercedes truck plowed into the cars as they were stopped at a traffic light near the city's district courthouse on Monday. Witnesses told local media that the vehicle accelerated significantly before the crash that left several cars smashed and debris scattered across the pavement.
At least nine people including the driver were injured, one of them seriously. Aside from the stolen truck, eight other vehicles were involved in the crash.
A police spokesperson said the precise nature of the crash had not been determined, but law enforcement were not going to "rule out anything at the moment."
The alleged perpetrator stole the truck only a few hundred meters away from the crash location. In an interview with a Frankfurt media outlet, the rightful driver of the truck said he was suddenly "dragged" out his vehicle by another man, who then drove off.
The site of the crash has been cordoned off from the public, where the truck remains, according to local media. A major police operation and "extensive investigations" were still underway in the city, which is about 340 miles (550km) west of Berlin.
You can share this story on social media: