Netanyahu admits election results won't let him form government, calls on rival Gantz to unite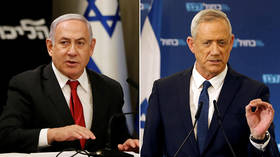 Benjamin Netanyahu reached out to his major rival Benny Gantz of the centrist Blue and White party, suggesting that they form a broad coalition and implicitly admitting defeat in Israel's contentious general election.
Netanyahu, who hopes to remain in power for the record fifth term, had made the appeal on Thursday, telling the media: "I called for the establishment of a right-wing government but to my regret, the election results show that this is impossible."
"Benny, we must set up a broad unity government, as soon as today. The nation expects us, both of us, to demonstrate responsibility and that we pursue cooperation," the 69-year-old Prime Minister said.
Gantz's Blue and White (Kahol Lavan) party is yet to respond to the offer, but Netanyahu's major contender said on Wednesday that he hoped for a "good, desirable unity government." However, he stated earlier that entering a coalition with the rightwing Likud party while Netanyahu is part of it is not an option.
With all the votes counted, the Blue and White won 33 out of 120 Knesset seats, with Likud lagging behind with 31 seats.
But neither result is enough to form a majority government, forcing both rivals to seek like-minded allies. Gantz already said he would speak to the Yisrael Beitenu which represents mostly Russian-speaking immigrants, as well as to the left-wing Labour-Gesher and Democratic Camp parties.
On his part, Netanyahu warned that the choice is now between "a government led by me" or a "dangerous government" relying on "anti-Zionist Arab parties."
Think your friends would be interested? Share this story!