Three people shot dead in Dutch city of Dordrecht, mayor describes incident as 'very serious'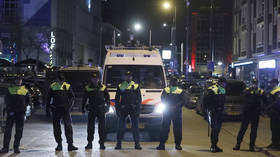 Three people have been shot dead in the Dutch city of Dordrecht, near Rotterdam, according to police. Another victim was seriously injured.
The incident took place at around 7pm local time on Monday, in the Heimerstein neighborhood of the city. Police soon descended on the scene of the shooting, which took place inside a home.
Three people were killed and another "seriously injured." Police did not say whether they had taken a suspect into custody.
Bij een schietincident op de #heimerstein in #Dordrecht zijn meerdere slachtoffers gevallen. Wij zijn met veel mensen aanwezig en onderzoeken wat er gebeurt is

— Politie Rotterdam eo (@Politie_Rdam) September 9, 2019
Dordrecht's Mayor Wouter Kolff described the shooting as "very serious," and announced he would visit the Heimerstein neighborhood later on Monday night.
Less than three hours before the shooting, a man had been injured in a daylight stabbing in the center of Dordrecht, and the perpetrator arrested. On the other side of Rotterdam earlier Monday morning, a quarrel at a metro station turned fatal, when a passenger stabbed another rider to death over an argument about who would enter the train first, according to local media.
Monday's events brought to 14 the number of violent homicides in the Rotterdam region this year.
Think your friends would be interested? Share this story!
You can share this story on social media: