India's space agency releases first Earth pics taken by lunar mission (PHOTOS)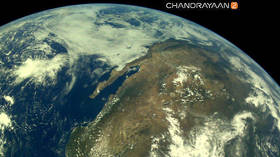 India's space agency (ISRO) has shared the first images of Earth, taken by its most powerful rocket yet, as it soars to the moon.
The 44-meter-long rocket isn't scheduled to land on the lunar surface until September 7, however the agency posted a set of five stunning images of Earth, taken from a distance of about 5,000km, by the LI4 camera aboard the lander after it launched on July 22.

"The images are crystal clear and (the) spacecraft is perfectly normal. I am extremely happy with the mission so far," said ISRO chairman K Sivan to NDTV. The images also suggest the lander will perform as expected during the "15-terrifying moments when it goes in for the lunar landing," added Sivan.
READ MORE: India successfully launches Chandrayaan 2 rover mission to Moon's South Pole (VIDEO)
The second attempt to launch the Chandrayaan-2 into orbit came a week after the first try saw the countdown being stopped less than an hour before the mission's departure. At the time, a "technical snag was observed in [the] launch vehicle system," according to the ISRO.
After it touches down on the Moon's surface, a small solar-powered rover, Pragyan, will be deployed. During its 14-day lifetime, Pragyan is expected to travel half a kilometer from the lander and snap images and collect data on the lunar surface to send back to Earth.
Like this story? Share it with a friend!
You can share this story on social media: