Afghanistan demands US explain Trump's comments about 'wiping' country off face of earth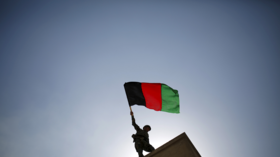 Kabul has requested that Washington clarify remarks made by Donald Trump, in which the US president boldly said he could "win" the war in Afghanistan if he completely annihilated the country.
Not mincing words, the Office of the President said it's not up to Washington or any other foreign state to decide Afghanistan's future.
The Afghan nation has not and will never allow any foreign power to determine its fate.
The statement said that Kabul supports US efforts "for ensuring peace in Afghanistan, the government underscores that foreign heads of state cannot determine Afghanistan's fate in absence of the Afghan leadership."
Afghanistan will remain dignified and firm in the global political arena.
Now the Afghan government seeks "clarification on the US President's statements" via "diplomatic means and channels," the statement read.
The US president boasted on Monday that he could "win" the war in Afghanistan "literally" in 10 days, but it would require the deaths of millions and the country "would be wiped off the face of the earth."
Also on rt.com
'I don't want to kill 10 million people': Trump says he could win Afghanistan war in 10 days
The war, which was launched in October 2001, has killed tens of thousands of civilians and an estimated 2,300 US military personnel. The total cost of the nearly 20-year war is estimated at $1 trillion and counting.
Despite the conflict's high costs, both in resources and human life, the Taliban has made considerable territorial gains in recent years. Kabul is now believed to have full control over less than 60 percent of the country's districts.
Think your friends would be interested? Share this story!
You can share this story on social media: