Seized UK-flagged tanker involved in 'accident' with Iranian fishing boat, probe launched – Tehran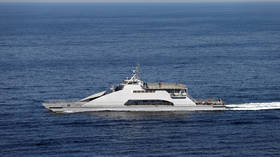 The UK-flagged tanker was entangled in an "accident" with an Iranian fishing boat in the Strait of Hormuz before it was seized by the IRGC, an Iranian official said. Its crew remains on board as a probe was launched by Tehran.
The British-flagged vessel Stena Impero was seized by the Islamic Revolutionary Guard Corps (IRGC) on Friday night.
The IRGC intervened because the ship "got involved in an accident with an Iranian fishing boat" and did not respond to its "distress call," the director of ports and maritime affairs of Iran's southern Hormozgan province, Allahmorad Afifipour, said.
The tanker was taken to the port city of Bandar Abbas and "all of its 23 crew members will remain on the ship until the probe is over," the official stated.
Also on rt.com
Iran releases VIDEO of detained British-flagged tanker
The IRGC said the ship was seized "for failing to respect international maritime rules." Military sources told Iranian media that the vessel "turned off its tracker" and ignored several warnings before being captured. Press TV also reported that oil was leaking from the tanker into the Persian Gulf.
UK Foreign Secretary Jeremy Hunt blasted the seizure as"unacceptable" and promised a "robust" response. The US also hit out at Iran for intercepting the tanker and called for the vessel and its crew to be released "immediately."
The ship is owned and operated by Swedish transport company Stena Bulk. Its crew consists of 18 Indians, while the rest are from Russia, Latvia, and the Philippines. The company said the tanker was "in full compliance with all navigation and international regulations" during its voyage. It did not receive any reports of injuries among the crew during the seizure.
Also on rt.com
US pressure & EU inaction left Iran with 'very few options' except to retaliate
There were also reports that a second ship, Liberian-flagged and British-owned oil tanker Mesdar, was boarded on Friday by armed personnel en route to the Strait of Hormuz, but was released the same day and continued its voyage. Tehran did not confirm that its forces intercepted the vessel.
Tensions between Iran and NATO nations have further escalated in recent months. The US accused Tehran of attacking several foreign oil tankers off the coast of Oman in May and June, which Iran denies.
On July 4, the UK Royal Marines and Gibraltar police seized Panama-flagged and Singaporean-owned supertanker Grace 1, suspected of transporting oil to Syria in violation of EU sanctions. Tehran said the ship was Iranian and blasted its seizure as "piracy." Iranian officials denied that the tanker was heading for Syria.
Think your friends would be interested? Share this story!
You can share this story on social media: