'Sheer lie': Iran elite military show VIDEO 'proving' no drone downed by US in Strait of Hormuz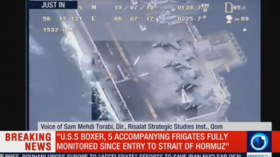 Iran's Revolutionary Guard Corps released footage which it says disproves the US claim of shooting down an Iranian drone over the Strait of Hormuz, showing the video was transmitted after the alleged time it was destroyed.
The elite military unit published the footage on Friday and it was aired and commented on live on the state TV channel Press TV. The video appears to depict American warship USS Boxer sailing through the strait in the early hours of July 19, according to the timestamp shown.
In a statement, the IRGC said it published the footage "to let the world's opinion know that the allegation is groundless and a sheer lie," arguing the video contradicts the timeframe presented by Washington and that all Iranian drones returned safely to their bases.
READ MORE: Iranian military say all its drones returned safely to base after US claimed it shot one down
On Thursday, US President Donald Trump said the drone was shot down after approaching within of 900 meters of USS 'Boxer' and "threatening the safety of the ship and the ship's crew." Tehran has rejected Washington's version of events.
"We have not lost any drone in the Strait of Hormuz nor anywhere else," Deputy Foreign Minister Abbas Araghchi tweeted on Friday morning. "I am worried that USS Boxer has shot down their own UAS by mistake!"
Also on rt.com
US Navy shoots down Iranian drone in Strait of Hormuz – Trump
Like this story? Share it with a friend!
You can share this story on social media: