'Free Assange': Irish MEPs wear T-shirts supporting WikiLeaks founder on first day in EU Parliament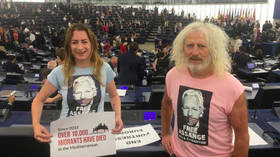 As the European Parliament reopened in Strasbourg on Tuesday, two freshly elected Irish MEPs marked the occasion by donning T-shirts supporting WikiLeaks founder Julian Assange in the parliament chamber.
Independent politicians Mick Wallace and Clare Daly put all their new colleagues on notice with the eye-catching garments which featured a striking image of Assange, gagged with a US flag, emblazoned across their chests.
Also on rt.com
Farage's Brexit Party MEPs turn their backs on EU anthem during parliament opening ceremony
"Assange is in prison because he exposed the ugliness of US Foreign Policy. Anyone who cares about a free independent media should challenge the treatment of Julian Assange," Wallace wrote on Twitter.
The politicians also carried signs saying "End fortress Europe" and "Since 2015 over 10,000 migrants have died in the Mediterranean." Daly added that the pair were taking up their seats in Strasbourg to "expose European 'democracy.'"
Both Wallace and Daly were members of Ireland's parliament, Dáil Éireann, before being elected to Europe. They have both championed Assange and the work of WikiLeaks, and met the whistleblower in 2013 while he was in the Ecuadorian Embassy in London.
It was far from the only act of political defiance on a turbulent opening day for the new session of the European Parliament. Thousands of Catalan separatists demonstrated outside the parliament building in support of three of their own MEPs who are blocked by Madrid from taking office. Inside, members of the Brexit Party turned their backs on the EU anthem during the opening ceremony.
Like this story? Share it with a friend!
You can share this story on social media: