Come say hello: Trump invites Kim to shake hands at 'real border' between South & North Korea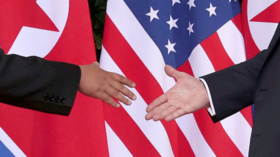 US President Trump has issued an unusual invitation to North Korean leader Kim Jong-un to join him and South Korean President Moon Jae-in at the demilitarized zone, which he bizarrely called a good example of a proper border.
Donald Trump is still in Osaka, Japan for the G20 summit, but said he will be in South Korea afterwards. "I don't know where he is right now, he might not be in North Korea. But I said if chairman Kim would want to meet, I'll be at the border," Trump told reporters.
After some very important meetings, including my meeting with President Xi of China, I will be leaving Japan for South Korea (with President Moon). While there, if Chairman Kim of North Korea sees this, I would meet him at the Border/DMZ just to shake his hand and say Hello(?)!

— Donald J. Trump (@realDonaldTrump) June 28, 2019
"While there, if Chairman Kim of North Korea sees this, I would meet him at the Border/DMZ just to shake his hand and say Hello(?)!" Trump tweeted earlier on Saturday morning.
We may go to the DMZ or the border as they call it. That by the way – when you talk about the wall when you talk about the border – that is what they call a border. Nobody goes through that border, just about nobody. That is called a real border.
The offer is probably not a surprise to Moon, who told reporters earlier this week that "behind-the-scenes talks" were underway to prepare a third summit between the US and North Korean leaders.
North Korea accused Moon of lying, however, with a senior Foreign Ministry official saying that there were no secret channels via the South, and any contacts with the US will be through the already established channels between Pyongyang and Washington.
Also on rt.com
To Dotard, love Rocket Man? Kim & Trump confirmed as 'friendly' pen pals despite disagreements
Meanwhile, Trump and Kim have exchanged private letters, suggesting a willingness to try and make peace in the Korean peninsula after the failure of their most recent summit in Vietnam in February.
The two leaders have already made history by meeting in Singapore last year, after publicly exchanging threats and insults to the point where nuclear war seemed imminent during 2017.
The Korean peninsula has been divided since its liberation from Japan in 1945. The partition was cemented during the Korean War, which drew in the US and China on the opposing sides and resulted in widespread death and destruction. The armistice along the DMZ has held uneasily since 1953.
Also on rt.com
North Korea denies 'secret talks' with US, accuses Moon of lying
The unconventional US president has talked up the potential "phenomenal" future for North Korea, perhaps even reunification with the South and rapid economic development, if Pyongyang agrees to give up its nuclear weapons. North Korea has remained justifiably skeptical, however, since some of Trump's advisers have suggested a "Libyan model" of disarmament that eventually saw that country destroyed by US-led regime change.
Nor has Washington offered any relief from the severe sanctions against North Korea imposed by the UN at US urging. The Hanoi summit broke down after Pyongyang requested partial sanctions relief for humanitarian reasons, and Trump refused.
Think your friends would be interested? Share this story!
You can share this story on social media: