We are 'probably the only great military power' to reduce its defense spending, Putin says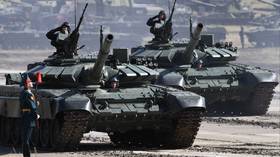 Russia manages to remain a great military power despite decreasing its defense budget, while other countries keep pumping money into their armies, Vladimir Putin said, during his annual Direct Line Q&A session.
"We are probably the only great military power that is reducing its defense spending," the President pointed out.
At around $48 billion, "Russia is just seventh in the world in absolute value" when it comes to the size of the military budget, he reminded his audience.
"We are surpassed –sizably– by the US, which spends $720 billion dollars" and by other countries, including Saudi Arabia, UK, France and Japan, he said.
Also on rt.com
We won't sell out our allies or principles to strike Syria deal with US, says Putin
But despite all this, Russia not only manages to maintain military and nuclear parity, but also to "surpass our competitors by two or three steps," he said, adding that "it's something to be proud of."
No other country has such state-of-the-art high-tech weaponry like ours. I'm talking primarily about our hypersonic missile technologies.
Russia's defense budget, which stands at 2.9 percent of GDP in 2019, will drop to 2.87 percent next year and to 2.8 percent in 2021, according to the head of state.
"The trend to reduce military spending is there," but defense remains an important expenditure for the state, he said, remembering a famous quote: "If you don't want to feed your army – get ready to feed someone else's."
Also on rt.com
Russia must have hypersonic defense before others get such weapon systems – Putin
Think your friends would be interested? Share this story!
You can share this story on social media: