Japan lifts tsunami warning after 6.5-magnitude earthquake off coast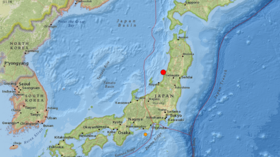 A 6.5-magnitude earthquake struck in the Sea of Japan, triggering a brief tsunami warning in some areas. Waves were expected to reach heights of around 0.2 to 1 meter, but they turned out to be minor.
The quake occurred off the west coast of the largest Japanese island, Honshu. According to preliminary reports, the epicenter was just 5km below the ground while its strength measured 6.5 magnitude.
Japan's meteorological society reevaluated the quake, stating it was actually 6.8 magnitude-strong, while its epicenter was located at a depth of some 10km.
A tsunami advisory has been issued for Yamagata and Niigata Prefectures and the Noto area of Ishikawa Prefecture. People were advised to stay away from the coast and go to higher ground.
Here's the shake map via @nhk_news. (The numbers measure intensity at those locations and a 6 means "less earthquake-resistant houses collapse" and similar buildings can suffer extensive damage. pic.twitter.com/tIeyGwKAAc

— Steve Herman (@W7VOA) June 18, 2019
Fortunately, the waves turned out to be smaller than expected and the tsunami advisory was lifted around three hours later.
The powerful jolt was felt across most of the Niigata Prefecture. Public broadcaster NHK called upon the populace to resist the urge to watch the tsunami and abstain from going near the coast.
The Japanese government has created a taskforce on the earthquake to gather additional information. The bullet train services in the region were suspended immediately after the jolt. So far, however, no information on the potential damage and injuries has emerged, only a "slight" raise in water levels has been observed.
Kashiwazaki-Kariwa nuclear plant, operated by Tokyo Electric Power Company (Tepco), was not affected by the jolt which occurred just 85km (53 miles) from the site. An initial inspection indicates that there is no damage to the facility but the company has promised to conduct more checks.
Minor power outages have been reported, and 200 households have been left without electricity, while locals have reported household items falling and breaking. Since the quake hit the western coast of Japan at night, the extent of the damage might be larger.
Think your friends would be interested? Share this story!
You can share this story on social media: