YouTube, Gmail & other Google services suffer outage in North America, parts of Europe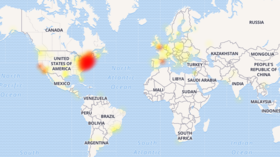 Google services, including YouTube, Gmail, and Snapchat, were down for several hours on Sunday afternoon. The US was apparently affected the most, according to user reports.
Users complained of problems accessing services such as Gmail, YouTube, Google Drive, and the backbone of the tech giant – the search engine itself. The outage has hit the US East Coast the worst, reports on downdetector.com indicate.
According to Google's own Status Dashboard, over half of its services were down, with only Google+ and Google Cloud Search listed as working properly.
The issue appears to be related to Google's Cloud service, its Cloud dashboard indicates. The problems began around 3:25pm ET, according to it, and were later confirmed to be connected "to a larger network issue." Reported outages of other, non-Google apps reinforces the theory that the issue is related to the Cloud – it powers apps other than Google's own web services.
The issues were not resolved until around 7:00pm ET, the company reported. "We will conduct an internal investigation of this issue and make appropriate improvements to our systems to help prevent or minimize future recurrence," the statement reads.
Google users vented their frustration on other platforms, as the outage affected many things, from accessing YouTube to workflow disruptions.
The outage was perceived as a sign of Doomsday – or at least the collapse of the entire internet. Which is sort of the same for many, it seems.
Think your friends would be interested? Share this story!
You can share this story on social media: