Austria's Kurz to face no confidence vote after govt resignations - lawmaker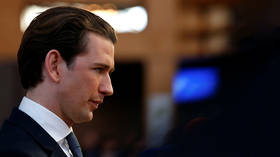 Austrian Chancellor Sebastian Kurz is set to face a no confidence vote in parliament after several ministers from former coalition partner, the Freedom Party (FPO), resigned following a corruption scandal.
Peter Pilz, an environmentalist MP who leads his own independent group, said he would bring the motion to Austria's lower house during a special session scheduled for Monday, following European Parliament elections.
"I am quite certain that it will succeed and that I will manage to ensure that Kurz will no longer be chancellor on Tuesday," Pilz told Reuters. If his motion is successful, it will end Kurz's hopes of holding office until the snap elections he had planned for September.
Also on rt.com
'Who is this woman?' Kremlin denies any connection to scandal that brought down Austrian VC
Pilz's plan to bring down the government early comes following comments from Herbert Kickl, who until Monday had served as interior minister in the coalition government. The senior FPO figure said the party would support any future opposition motion to bring down the government if it was proposed, according to news website Oe24.
"It would be almost naive for Kurz to assume that we, the FPO, have no distrust of him following his distrust in us," Kickl told the news outlet. "Whenever the extraordinary session happens, those who give trust receive trust and those who give distrust get distrust," he said without elaborating.
Kickl's role as interior minister was already in doubt on Monday, as Kurz pushed for his resignation over the weekend. Kurz argued that as an FPO member, Kickl was unfit to lead a corruption probe into his party's boss and former vice chancellor, Heinz-Christian Strache. After Kickl resigned, FPO ministers followed suit, leaving several ministerial positions vacant. Kurz said he would fill the gaps – which include posts at the defense and transport ministries – with non-political "experts" until fresh polls can be held.
The cull of FPO ministers was accepted by President Alexander Van der Bellen on Tuesday, with the exception of Karin Kneissl, who had requested to stay on as transitional foreign minister. While originally nominated for the position by the FPO as an "independent expert," she is officially non-party.
Also on rt.com
Austrian video scandal is 'two-pronged attack' on EU conservatives & Russia
The two-year political marriage between the FPO and OVP deteriorated over the weekend, after reports in German media on Friday placed Strache at the heart of an influence-peddling scandal. Video footage from 2017 allegedly shows that Strache offered government contracts to the supposed niece of a Russian oligarch in return for buying an Austrian news outlet and flipping its editorial stance to support to FPO. Strache then resigned on Saturday with Kurz suggesting that new elections could be held in September.
Subscribe to RT newsletter to get stories the mainstream media won't tell you.